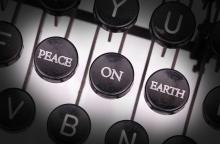 The letter arrived at work about two weeks after baseball's opening day in 2003. It had a Zanesville, Ohio, postmark. A return address sticker mentioned a Mrs. Howard Richardson.
What's this about?
Inside was a handwritten note along with a neatly clipped copy of my Cincinnati Reds season preview story from the Zanesville Times Recorder. I didn't have to read far to get the gist.
This Mrs. Howard Richardson — she wasn't happy with me. Not at all.
In beautiful cursive — the kind of handwriting you don't see anymore — she pointedly took me to task for suggesting the Reds could be awful that season. I should be more positive, she insisted. It would help the players.
"You get more flies with honey than vinegar!!!!!" she wrote. (Yes, underlined and topped off with many exclamation points.)
The note was signed: Evelyn Richardson.