pastor mark driscoll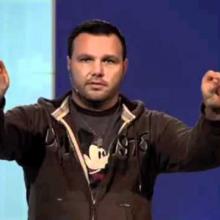 Anyone who reads my stuff with some regularity probably already knows that Mars Hill pastor Mark Driscoll isn't exactly on my speed dial list, and I'm probably not in his. From his misogynistic quips to his hellfire hyper-Calvinist rants, he and I see almost all social and theological issues as differently as two people could and still call themselves Christians.
Add to that the recent plagiarism scandal, compounded by the fact that he effectively bought his way onto the New York Times bestseller list (and it turns out he may have used church money to do it), and I question the man's fitness for ministry.
Having said that, I actually kind of love the guy—and you do too, if you're being honest. No, I don't mean in the "I love him because Jesus said I have to" kind of way. I mean you really kind of have a thing for him. Here's why.
Here's a little round up of links from around the Web you may have missed this week: