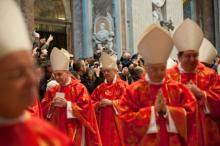 VATICAN CITY — As 115 cardinal-electors solemnly processed into the Sistine Chapel on Tuesday afternoon, with a cry of "Extra omnes!" and the latest high-tech jamming devices cutting them off from the world, the buzz outside the Vatican over who would eventually emerge as pope grew deafening.
Everyone had theories, many had favorites, and most declared it all so unpredictable that the winner – or even how long it would take to find him – was anybody's guess.
"We are living through an extraordinary conclave," Marco Tosatti wrote in La Stampa, the Italian daily whose insider coverage of the pre-conclave meetings read like a tip sheet for papal bookies.
"If we look at the history of conclaves over the last century, never has there been such a range of choices, and such uncertainty over the outcome up to the moment that the doors of the Sistine Chapel closed," he said.
In fact, the latest lines were varied and morphing all the time, a feast of permutations for Vaticanisti who parse papal elections the way sci-fi geeks deconstruct a new installment of "Star Wars."