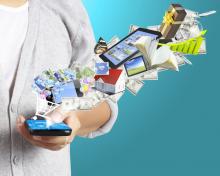 I tend toward the "eat, drink, and be merry" life philosophy, popularized by the Bible, and also Dave Matthews Band. Growing up in a very large, very loud, very food-centric family in South Texas ingrained this in me, as we gathered many a Sunday around the table(s) to celebrate that month's birthdays and talk politics, family businesses, and, mostly, the last Seinfeld episode. What you might call gluttony, I call Sabbath — and I'll quote Scripture at you to prove my point.
So smug was I at my "breaking bread as Jesus did" epicurean lifestyle that I probably should be writing about pride instead. But a few weekends ago, while finishing up season two of House of Cards three days after it released — and also a bottle of Zinfandel — and taking eye-attention breaks to check my Facebook and Instagram feeds (that adorable photo of baby girl only garnered 64 likes?!), and to see how many steps my Fitbit recorded for the day (so much for that post-dinner Skinny Cow), I paused to reflect upon the concept of gluttony.
When does our reliance upon a constant stream of multi-channel entertainment and instant gratification become harmful?