opiate of the masses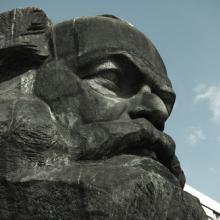 If we try to mold faith into something more certain than simply faith, it becomes something else. A crutch, perhaps, or a drug. So how or when does this happen?
It happens when someone is suffering and we tell them that everything happens for a reason. In the bigger picture, this is that opiate of certainty and assurance being cast over all the chaos, suffering, and doubt in an effort to keep it all tied up neatly in a religious package. But what it creates beneath the surface is a bastardized image of a God who sits in the Great Beyond, plotting out our fortunes and misfortunes, causing loss and heartbreak in our lives for some greater unknown plan. This makes us no more than so much collateral damage in some narcissistic divine game.
Is that really the God we believe in?
Whenever Karen Ward, Abbess for
Church of the Apostles
(COTA), makes a suggestion about what's happening on the faith fringes, she tends to be s