open hands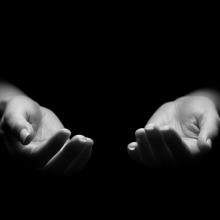 It was my junior year of college. I sat in the balcony of chapel listening to a message and expecting nothing more than the usual chapel routine.
My life up until that point had been all about finding control and self-worth, which centered on academics and hard work. Blame my culture or my textbook Type A work patterns, but really the core of the issue was my pride and self-reliance. I wanted (and probably in some ways still want) to control and perfect every aspect of my life. X plus Y equals Z, right?
So, I sat there completely unaware that it would be a message that I still haven't forgotten.