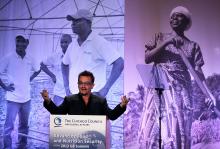 In a room filled with African heads of state, captains of industry, leaders of international development and countless executives from NGOs at the G8 Symposium on Global Agriculture and Food Security in Washington, D.C. late last week, stood one Irish rock star — Bono, the lead singer of U2 and co-founder of the ONE Campaign.
At first blush (to the uninitiated, perhaps), Bono's presence might seem incongruous, but most of the folks in the room at the Ronald Reagan building a few blocks down Pennsylvania Avenue know the Irishman more for his tireless humanitarian efforts than his closet full of Grammy awards. For more than 25 years, Bono, 52, has been involved deeply and effectively in international affairs as a champion for the poorest of the poor.
"Can we manage the oil as well as the farmland? Manage it properly, responsibly, transparently?" Bono asked the audience. "Because when we don't, you know what happens. Hundreds of billions of dollars got lost to oil and gas corruption in Nigeria. That's what the watchdog groups are telling us. Just mind blowing. Huge numbers.
"Crops need sunlight. So does resource extraction. Both need sunlight's disinfecting glare. Isn't transparency the vaccine to prevent the worst disease of them all? Corruption. Everybody here knows that corruption kills more children than HIV/AIDS and malaria combined. So that's what I want to leave you with. That very simple word. That very simple concept. Easy to say. Much harder to realize, especially in law. The word 'transparency.'
"We won't have food security without it," he said. "But we will have oil riches without it but those riches will be held and hidden by very few hands."