Occupy London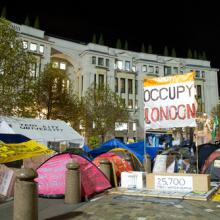 LONDON — Police on Tuesday evicted scores of demonstrators from a makeshift tent city they had erected outside historic St. Paul's Cathedral more than four months ago as part of a global protest against capitalism.
After brief skirmishes in the operation that authorities launched before dawn, 20 protesters were arrested but most reacted largely peacefully as they were moved out.
Police dumped an estimated 150 tents and equipment into waiting garbage trucks. By midday, the former campsite was cleared and the last of its occupiers were leaving.
LONDON — It looks like the stage of a West End theater. The tents are gathered around and almost up against the steps of the historic St. Paul's Cathedral. Each night, a General Assembly is held on those steps, and the sermons on inequality have a biblical ring to them.
This is Occupy London and the Occupiers were having their discussions with each other and visitors in the protective shadow of the Dome of St. Paul's — as they should be. What a picture of the Incarnation, I thought, marveling at the scene.
What makes Christian faith most unique among all the religions of the world is, indeed, the incarnation. In Jesus Christ, God hits the streets — that's what Incarnation means.
So here is the church in the midst of the international conversation that is changing the world — right where we should be.