newark
At a solemn ceremony in St. Peter's Basilica, to elevate 17 new cardinals, Pope Francis, on Nov. 19, delivered a ringing plea to the world, and his own Catholic Church, to reject "the virus of polarization and animosity," and the growing temptation to "demonize" those who are different.
The pontiff's address came across as a powerful, gospel-based indictment of the populist and nationalist anger roiling countries around the world, displayed most recently by the stunning election of Donald Trump as president of the U.S.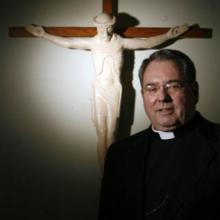 NEWARK, N.J. — The Roman Catholic priest at the center of a public furor enveloping Newark Archbishop John J. Myers has resigned from ministry, a spokesman for the archdiocese said May 2.
The Rev. Michael Fugee, who attended youth retreats and heard confessions from minors in defiance of a lifetime ban on such behavior, submitted his request to leave ministry on Thursday, said the spokesman, Jim Goodness. Myers promptly accepted the resignation, Goodness said.
Fugee, 52, remains a priest but no longer has authority to say Mass, perform sacramental work, or represent himself as an active priest, Goodness said. It was not immediately clear if Fugee or Myers would petition the Vatican to remove him from the priesthood altogether, a process known as laicization.
Asked if Myers had requested that Fugee step aside, Goodness said, "I only know that he offered to leave ministry and the archbishop accepted."