new pope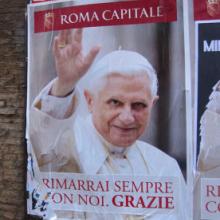 VATICAN CITY — Amid all of the prognosticating about who the cardinals could choose as the next pope in the conclave that starts here on Tuesday, one reliable thread has emerged: the desire to elect a pontiff who can be a pastor to the world as well as a taskmaster to the Roman Curia.
Finding such a combination in a single man, of course, may prove difficult if not impossible, which adds to the almost unprecedented level of uncertainty surrounding this papal election.
So if anything is possible, some say it might be better to reverse the prevailing wisdom — look for a pope who will talk tough to Catholics (and the world) while shepherding the Curia with a firm hand in order to better police the wayward.
The prospect might appall progressives and others who were happy to see the end of Pope Benedict XVI's papacy, but it has enough appeal to conservatives that they are trying to make the case.
One reason for their sense of urgency is that Cardinal Joseph Ratzinger turned out to be more of a papal pussycat as Benedict XVI than the watchdog of orthodoxy that he had been for decades while serving under John Paul II.
Is now the time for a pope who could be more of a Ratzinger than a Benedict?