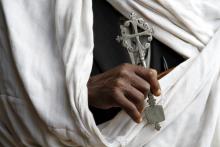 Coptic Christian leaders in the United States distanced themselves from an anti-Muslim film that has sparked protests in more than 24 countries, and denounced the Copts who reportedly produced and promoted the film.
"We reject any allegation that the Coptic Orthodox community has contributed to the production of this film," the Coptic Orthodox Archdiocese of America said in statement on Friday.
"Indeed, the producers of this film have taken these unwise and offensive actions independently and should be held responsible for their own actions."