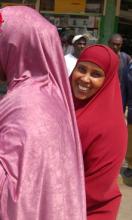 In northern Nigeria, mounting fears of militant female suicide bombers have raised calls to ban the hijab, or the veil that covers the head, chest and, in some cases, the entire body.
Last week, four women believed to be members of the Islamic militant group Boko Haram carried out attacks in Kano, a city in northern Nigeria. Men belonging to the group have taken to wearing the hijab, too, according to reports.
On July 27, a female suicide bomber detonated a bomb outside a Roman Catholic church in Kano, killing four people and injuring 70. Around the same time, security agencies arrested two girls aged 10 and 18 with explosive belts under their hijabs.
"We have this worrying situation where the bombers are turning out to be girls dressed in the hijab," Roman Catholic Bishop John Niyiring of Kano said.
Banning the hijab is crucial to curbing the trend, said Emmanuel Akubor, a historian at Obafemi Awolowo University in Ile-Ife in western Nigeria.
"The best thing for now is to place a temporary ban on hijab, not for religious, but security reasons," he told News Agency of Nigeria.
But Niyiring said he thinks such a ban would be resisted.