Dozens of Muslim women are competing at the 2012 Summer Olympics in London — several of them as the very first female athletes chosen (and allowed) to represent their countries in the Olympic games.
These women are vanguards, shattering stereotypes, subverting cultural-religious mores, and creating a legacy that will benefit female Olympians of all creeds for years to come.
As has been widely reported and celebrated (in many quarters), Saudi Arabia sent two women athletes to represent the Arabic nation for the first time at the Olympic games — 16-year-old judoka (judo competitor) Wodjan Ali Seraj Abdulrahim Shahrkhani and 800-meter runner Sarah Attar, 19.
Attar, who is a California-born American but holds dual-citizenship in the Arabian kingdom because her father is Saudi, trains in San Diego, not far from Pepperdine University where she is a junior art major and also runs on the university's track team.
Shahrkhani, whose father is a judo coach and an international referee in the sport, won a dispute with Olympics officials earlier this week to be allowed to compete while wearing her hijab or traditional head covering worn by many observant Muslim women.
Saudi Arabia is not the only majority Muslim country sending its first women competitors to the Olympics. Brunei and Qatar also followed suit, sending five female athletes in total. Runner Maziah Mahusin is the lone woman on Brunei's three-person Olympic team. Qatar's four women Olympians are swimmer Nada Mohammed WS Arakji, sprinter Noor Hussain Al-Malki, table tennis player Aia Mohamed, and air rifle competitor Bahia Al-Hamad.
Both Mahusin and Al-Hamad were chosen as flag bearers for their nations at the opening ceremonies in London last week. Twelve majority Muslim countries — Tajikistan, Qatar, Morocco, Indonesia, Turkey, Jordan, Iraq, Djibouti, Comoros, Brunei, Bahrain, and Albania — chose women as flag bearers at the opening ceremonies that were viewed by an estimated 1 billion people worldwide.
Muslim women are competing in about half of all events at the London games, including shooting, archery, tae kwon do, judo, rowing, table tennis, track and field, swimming, badminton, fencing, gymnastics, pentathlon, volleyball, weight lifting, and women's basketball (both Turkey and Algeria, with largely Muslim populations, have sent teams this year.)
Women's boxing would have been added to that list had Afghanistan's Sadaf Rahimi had received a wild card invitation to compete in the London games, but the International Boxing Association (AIBA), which decided on July 18 that she could not compete, citing concerns that her safety would be compromised by fighting more experienced boxers.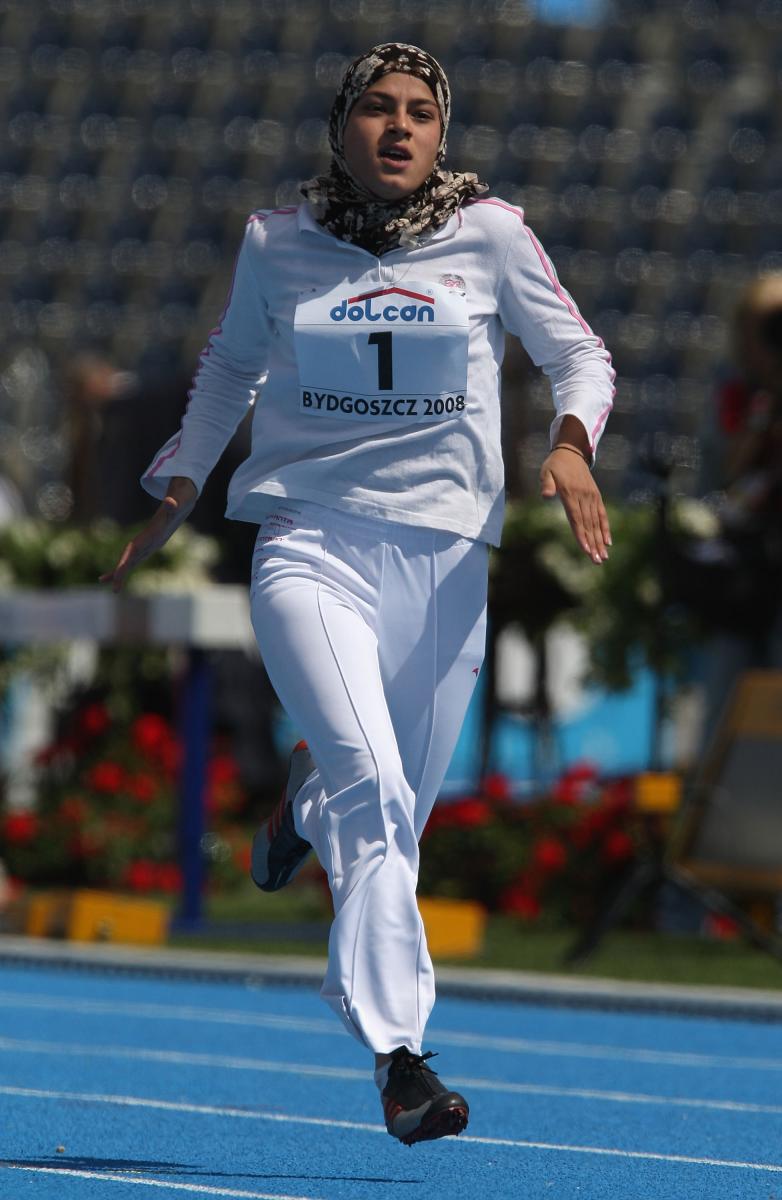 Afghani runner Tahmina Kohistani, 23, is now the sole female athlete representing her worn-torn country at the Summer Olympics. She will be running dressed in a hijab out of respect for her religion and the holy month of Ramadan. (This is the first Olympics since 1980 that has fallen during the Islam's holy month and its sunrise-to-sunset fast.)
Like many of her sister athletes from majority Muslim nations, Kohistani (in the photo at right) has experienced much adversity and opposition to her participation in competitive sports.
The website Human Rights First recounted some of the hurdles the young runner has had to overcome on her road to the Olympics:
Before leaving for London, [she] enthusiastically told a taxi driver that she would be competing in the Olympics, expecting praise or congratulations. Instead, he threw her out of the taxi. This was only one example of abuse that Kohistani has faced. People have disturbed her while training in Kabul Stadium, taunting her and saying that women should not play sports.
At first, this discouraged her, and she let herself think that these naysayers may be right. Her trainer reminded her, however, that there will always be people who do not want her to succeed. And there are also people cheer for her. This support has convinced her that she must continue pursuing her dream, for herself and all Afghan women....
Kohistani acknowledges that she probably won't get past the preliminaries in the 100-meter dash this Friday, but she's not at the Olympics to win a medal. She's there, she said, to "open a new way for the women of Afghanistan."
Another major conflict zone — Palestine — has sent two women to the London games: runner Woroud Sawalha and swimmer Sabine Hazboun. And 19-year-old sprinter Fatima Sulaiman is the only woman representing the nation of Yemen at the summer Olympics.
According to the blog Muslim Women in Sports:
She has had to overcome strong male prejudices and civil unrest to make it to the games. In Yemen girls are only allowed to train inside stadiums. So whenever Dahman wants to train outside, she waits until dark so no one can see her. During the uprisings in Yemen it was difficult for Dahman to leave her home to train. When Dahman was able to travel to the stadium, she had to mostly practice alone because there are only a few other female athletes in her country.
The fact that 29-year-old Nur Suryani Mohd Taibi is the first woman to compete on Malaysia's rifle team at the Olympic games is not the only reason she's making history in London. In addition to being a sports trailblazer, Taibi, who competed in last weekend's 10-meter air rifle event where she hit eight of her 40 marks and finished 34th, also is eight-months pregnant with her first child — a daughter she's named Dayana Widyan.
Taibi, who is a Navy logistics officer, told the U.K. Telegraph:
"Every morning I talk to her and I say: 'Mummy is going for training. Please remain calm. Don't kick.' But if the baby kicks I have to breathe easy and let her calm down before shooting."
Egypt's 2012 Summer Olympics team has 36 women athletes competing in more than a dozen sports — a new record for the nation. (Egypt sent 29 women to the 2008 Olympics in Bejing.)
Another first is fencer Ibtihaj Muhammad, who is the first person person to represent the United States at the Olympics wearing a hijab. She says she chose her sport because it allowed her to cover her body without altering the uniform.
Athletes aren't the only women making history at the 2012 games. Amina El Sergany of Egypt is the first African, Arab or Muslim woman to ever officiate an Olympic beach volleyball event.
[view:Media=block_1]
Read more stories about Muslim women athletes and Olympians at Muslim Women in Sports.
Speaking of firsts ... England's Poet Laureate Carol Ann Duffy (the first woman, the first Scot, and the first openly gay person to hold the position) composed the official poem of the 2012 Summer Olympics, titled "Eton Manor."
"The original Olympics involved poetry as well as sport, celebrating the wholeness of human endeavour," Duffy said.
Reflecting on the Summer Olympics and what some observers have dubbed "The Year of the Arab Woman Athlete," it's not difficult to see the connection between the poetry of language and the poetry of life — of history.
Duffy's poem concludes with this stanza:
This is legacy-
young lives respected, cherished, valued, helped
to sprint, swim, bowl, box, play, excel, belong;
believe community is self in multitude-
the way the past still dedicates to us
its distant, present light. The same high sky,
same East End moon, above this reclaimed wilderness,
where relay boys are raced by running ghosts.
"This is legacy." Indeed.
For this summer's Muslim women Olympians, surely it is the beginning of one.
Cathleen Falsani is Web Editor and Director of New Media for Sojourners. Follow Cathleen on Twitter @GodGrrl.
Got something to say about what you're reading? We value your feedback!