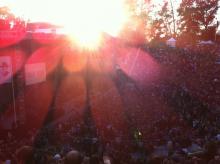 "Listen to the words," the young woman behind me stage-whispered to her chatty date. "Are you listening?"
He wasn't. But I was and so was most of the rapt, standing-room-only crowd that crammed the Greek Theatre at UC Berkeley for the second of three sold-out Mumford & Sons concerts late last month.
This is what I had come for — not just a concert, but a shared experience with a congregation of strangers (and a few friends).