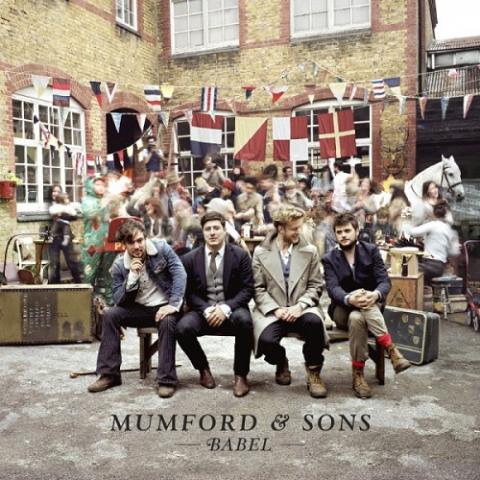 "Are Mumford & Sons as big in America as they are here?" my English friend asked me a year ago over a pint at a pub on High Street in Oxford, England.
"Uh … yea," I replied, astonished that their popularity was even in question. "They're huge."
Turns out that English friend is Marcus Mumford's cousin, and he eventually got to see how big they are in the states, spending this past summer in Arizona and scurrying over to Colorado for their show at Red Rocks. (I know I'm jealous.)
But has that popularity and success translated into a decent sophomore album? Absolutely. One way to avoid the perilous "sophomore slump" that plagues many musicians and bands these days is to stick to your guns. And that's exactly what English quartet Mumford & Sons did with their second album Babel.
"The idea was always, 'If it ain't broke, why fix it?'" producer Markus Dravs told Rolling Stone.
And that's almost exactly what audiences get on Babel. It's as if Mumford took all the good things from their first record, Sigh No More, and channeled them into Babel.
Who blames 'em? Their foot-stomping, banjo-plucking signature folk-rock sound has sent them to the far corners of the earth and back. It also shot Sigh No More up to platinum status, selling five million copies and nominating the band for two Grammys.
The similarities between the two albums are perhaps most evident on the track "Below My Feet," in which the typical Mumford formula is employed beautifully. The song remains relatively calm, with just Mumford's voice and the guitar leading the listener into a chorus filled with the harmonizing voices of all four members howling biblical allusions. Eventually, after the second chorus or so, the song swells, accompanied by an organ, a banjo, and a series of "hars" (oddly reminiscent of "Little Lion Man," the single off of Sigh No Morethat arguably propelled them into stardom). Lastly, Marcus Mumford howls at the top of his lungs. Catharsis achieved.
Audiences will also recall Marcus Mumford's Christian faith, which makes an appearance on Babel. Mumford overtly refers to God on songs such as "Below My Feet" and "Lover's Eyes," singing "I was under your spell/When I was told by Jesus all was well/So all must be well."
But most of their songs are indirect expressions of Mumford's faith, which not all of its band members share. The first single, "I Will Wait," seems to be a prayer. Mumford sings, "And I'll kneel down/Wait for now/And I'll kneel down/Know my ground," before declaring that he'll wait for God. Countless other lines in the song make requests of God, from Mumford's reference to God's forgiveness along with the Brit's request for God to free his mind from lies. Unlike many other "Christian" artists, Mumford successfully pairs decent music with lyrics explicitly wrestling with faith.
And, unlike their folk contemporaries The Avett Brothers, Mumford & Sons has chosen to maintain their raw sound amid fame and success. Almost every song on Babel involves yelling at some point, which is definitely a plus.
But Babel also has its flaws. Much like Coldplay, Mumford writes more universal lyrics that can lose their meaning at times. Take, for instance, "Holland Road." Mumford sings, "With your heart like a stone you spare no time in lashing out/And I knew your pain and the effect of my shame/but you cut me down/you cut me down." That could mean pretty much anything. It allows the song to identify with almost anyone but at the same time ditches nuanced poetry.
All in all, Babel is at least worth a listen. It's catchy. It's folksy. It's passionate. It may not be anything new, but it sure as hell is fun to listen to.
Brandon Hook is the Online Assistant at Sojourners.