mumford
An awesome Big Game ad, a trip to the Grand Canyon, some sweet grooves, a dog that wears menswear, and Mumford & Sons jamming with a high school marching band. Yes.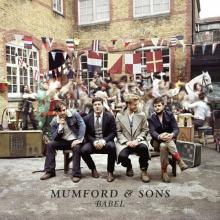 "Are Mumford & Sons as big in America as they are here?" my English friend asked me a year ago over a pint at a pub on High Street in Oxford, England.
"Uh … yea," I replied, astonished that their popularity was even in question. "They're huge."
Turns out that English friend is Marcus Mumford's cousin, and he eventually got to see how big they are in the states, spending this past summer in Arizona and scurrying over to Colorado for their show at Red Rocks. (I know I'm jealous.)
But has that popularity and success translated into a decent sophomore album? Absolutely. One way to avoid the perilous "sophomore slump" that plagues many musicians and bands these days is to stick to your guns. And that's exactly what English quartet Mumford & Sons did with their second album Babel.
"The idea was always, 'If it ain't broke, why fix it?'" producer Markus Dravs told Rolling Stone.
And that's almost exactly what audiences get on Babel. It's as if Mumford took all the good things from their first record, Sigh No More, and channeled them into Babel.
Who blames 'em? Their foot-stomping, banjo-plucking signature folk-rock sound has sent them to the far corners of the earth and back. It also shot Sigh No More up to platinum status, selling five million copies and nominating the band for two Grammys.