movements
There we were, a group of political musicians, arm in arm, leading the populace. And we didn't really know what to sing. The irony of the situation stuck with me. The power of our songs had gathered the people. But once the people gathered, where were the songs for that day's movements?
2008 was the year that most people got to know my group Flobots and our music, especially through the national release of Fight With Tools. 2008 was also a historic election year. Eight years later, as we prepare to release our album in 2016, the country is gearing up for another decisive election. And as division grows, some artists are singing out, and some movements are finding their refrains. This timing is significant.

When we look at the movements happening today, we see everyday people seeking to resist violence, racism, and destruction. We see raised voices crying out for transformation. It is critically important that they succeed.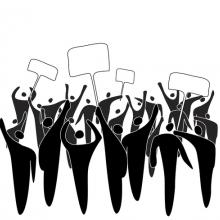 According to Article 19 of the Universal Declaration of Human Rights, "Everyone has the right to freedom of opinion and expression; this right includes freedom to hold opinions without interference and to seek, receive and impart information and ideas through any media and regardless of frontiers."
Similarly, the First Amendment to the United States Constitution declares "Congress shall make no law…prohibiting the free exercise of; or abridging the freedom of speech…"
While certain opponents exist, most of us agree that free speech is an essential ingredient for a mature democracy, thus it should be encouraged, protected, and further developed. With these thoughts in mind, while we should indeed celebrate the numerous positive outcomes of free speech in the USA, we should also account for its costs, for even the most worthy of causes – such as free speech – bring an assortment of unintended negative consequences.

As our November Election Day draws closer, we are mindful that a defense of free speech has led to millions of dollars directed toward ads, phone calls, literature distribution, and other activities that seek to sway the electorate. As countless studies have shown, the totality of these campaign strategies holds a significant impact on voter decisions and overall turnout.