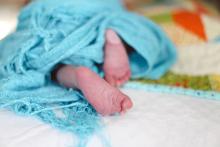 I became a mom for the first time in November. Insert here all of the cliché observances about life-changing experiences and never knowing love before and having a better understanding of God and whatnot. Of course, they're all true, but so are most clichés.
There are also things no one tells you, instead using above clichés to paper over the less desirable realities of parenthood. No one told me about that feeling — the feeling that the word "overwhelming" doesn't even begin to describe. No one told me that feeling that makes you weep inconsolably and go off the rails at the thought of leaving the house is actually what it means to love your child. That size of love is truly overwhelming.
While I was pregnant, I tried really hard to avoid all of the parenting books — how to raise well-behaved children, the countless "methods" for getting your child to sleep, how to master breastfeeding ("the most natural thing in the world!" ugh, wrong) — in favor of being a "go-with-the-flow" type parent. In fact, the only book I really read and still lives in a stack by my nightstand is The Sh!t No One Tells You: A Guide to Surviving Your Baby's First Year.
And being the future mother of a girl, I had grand ideas about "protecting" her from human-made gender norms. I ordered the "Forget Princess; Call Me President" onesie. I shunned head-to-toe pink (for about a week). I created a collage wall in her nursery of black-and-white photos of all of the badass women in her family she has to look up to.
And then this week I caught myself doing something that has the potential to harm my daughter more than being drenched in pink and purple for the next 18 years ever could.