mogadishu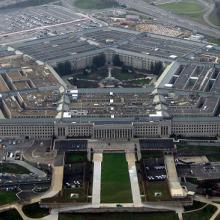 The Pentagon on Sept. 5 confirmed that the leader of al-Shabab, an al-Qaida-linked organization in Africa, was killed in a U.S. airstrike in Somalia this week.
The leader, Ahmed Abdi Godane, was targeted Sept. 1 in an airstrike that hit a vehicle and compound in a militant stronghold south of the capital, Mogadishu.
Al-Shabab has been linked to a number of attacks in Africa, including the bloody siege at the upscale Westgate Mall in Nairobi, Kenya, in September 2013 that killed 67 people.
"Removing Godane from the battlefield is a major symbolic and operational loss to al-Shabab," Pentagon Press Secretary Rear Admiral John Kirby said in a statement.
At the time of the strike, the Pentagon said it could not confirm Godane's death.
A truck bomb has killed at least 70 people in the Somali capital of Mogadishu, including a crowd of young students applying for scholarships to study abroad.