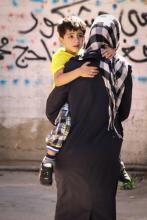 I have read countless articles from political, religious, and ethical perspectives on why or why not the U.S. should militarily intervene against the Syrian regime. Most do a decent job evaluating the situation, but I have yet to read one that really puts the human element on the table as a deciding factor.
A few months ago I was going to bed in my hotel room in Tel Aviv when I saw the breaking news alert that there was rocket exchange between Hamas and Israel in and around Gaza. While I have been to many places in "conflict," there is something much different about being somewhere that is only miles away from live fire. 
I started playing out the situation in my head: "What if this expands into a major conflict? Can I catch a flight back home to be with my family before it gets worse? I'm only 30-40 miles away from the active conflict, am I already in range sitting in this hotel room?"
Anxiety. Fear. Uncertainty.  
Now let me be clear, that experience of anxiety and fear is NOTHING compared to what most Israeli's, Palestinians, Egyptians, or Syrian's have felt in recent years (and MANY other populations). But — even if only in some small way — I could immediately feel the weight of pending war. It is palpable. It is crippling. And if I had my family with me, it would have potentially been unbearable.