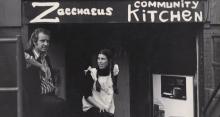 Kathleen calls Ed's lifework — which also includes authoring the 1979 D.C. statehood constitutional convention initiative and acting as Pax Christi USA's first General Secretary beginning in 1972 — "a tiny seed that really sparked a lot of transformational education."
Kathleen mentions several former volunteers who went on to start their own hospitality houses, federations for organic farmers, prison rehabilitation initiatives, and food and poverty programs worldwide.
And the impact of Guinan's work lives on in the city today. In 2008, Ed and Kathleen received the WETA Hometown Hero Award for residents working for "positive change for underprivileged people." The CCNV's medical clinic has since grown into one of D.C.'s most recognizable service groups, Bread for the City. And according to the Washington Post, the CCNV's Federal City Shelter still houses 1,350 beds — the country's largest shelter for the homeless.