marketplace
For most of human history, religious faith has been central to the life, economy, and government of virtually all societies. Babylon, Egypt, China, Greece, and Rome: all of these empires explicitly traced their authority from heaven, the gods, or other transcendent concepts that can only be described as religious. Religious acts were political acts, and vice versa. To challenge the status quo of the ruling authorities was to call into question the religious authorities, as well. Expressions of faith were serious business.
For more than a thousand years, Western Christianity was the theological glue that held European society together. We can still observe remnants of these former times in the civil religion of the United States. Even today, presidents invoke the name of God during speeches. Prayers are spoken before sessions of legislative bodies. New citizens and government employees are required to swear oaths of loyalty to the state. Our civil structures still bear traces of a time when Christian religious concepts were deeply intertwined with government.
For the most part, however, theistic religion is being pushed steadily out of our civic life.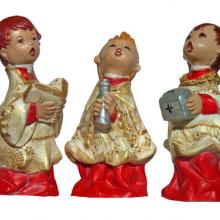 Should the market have so much control over liturgical music?

There is nothing new to this question. Not at all. Now, however, there may be much that is new in discoverng the answer. 
Once upon a time in the European West, liturgical music was created by musicians who were supported by the patronage of a noble class.* Byrd, Tallis, you know the gang.

Before then it was the monastic composer (Hildegard, et al) who seemed to rule the charts with their chant. Musicians were supported by the Church and the Wealthy in some way and thus created music for worship.

The old markets, of course, have given way to new markets over the centuries, but throughout the history of the Western marketplace, markets (and the people they represent) have had tremendous say in what music we deem as sacred.
Now, in our post-colonial, neoliberal marketplace, how shall we choose liturgical music?