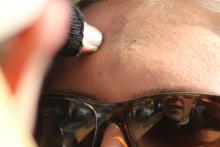 Chances are you'll see a bunch of folks walking around with shmutz on their foreheads this Wednesday. The 'Splainer asks what having a dirty forehead has to do with being a Christian and why this ritual is gaining in popularity.
Q: Excuse me, but why do you have dirt on your forehead?
A: Wednesday is Ash Wednesday, the day many Christians mark as the first day of Lent, the time of reflection and penitence leading up to Easter Sunday. Clergy all over the world dispense ashes, usually made by burning the palm fronds distributed on last year's Palm Sunday, making the sign of the cross on the bowed foreheads before them. As they "impose" or "dispense" the ashes, the pastor or priest reminds each Christian of Genesis 3:19: "For dust you are and to dust you shall return."
Q: Well, that's cheerful. Why would anyone want to start a workday on such a downer?
A: It isn't intended to be a downer. It's supposed to be a reminder that our lives are short and we must live them to the fullest. OK, maybe it's a little bit of a downer — that verse from Genesis is what God said to Adam and Eve when he expelled them from the Garden of Eden for their sins. But there's a big party the night before Ash Wednesday. That's Mardi Gras, or "Fat Tuesday," a secular observance that evolved out of "Shrove Tuesday," the last hurrah – usually marked by eating of pancakes or other sinfully sweet foods – before the solemnity and penance of Lent set in.