Louie Giglio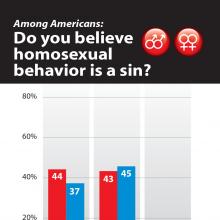 Americans' acceptance of gays and lesbians is continuing to grow, with a new poll showing that just over a third of Americans view homosexuality as a sin, down from 44 percent a year earlier.
The finding from LifeWay Research, which was founded by the Southern Baptist Convention, was released just as the pastor who was to give the inaugural benediction for President Barack Obama withdrew from the program over an anti-gay sermon he gave 20 years ago.
The evangelical pastor that President Obama picked to deliver the benediction at his inauguration ceremonies withdrew from the high-profile assignment on Thursday following a furor over a sermon from the mid-1990s in which he denounced the gay rights movement and advocated efforts to turn gays straight.
In a statement, the Rev. Louie Giglio of Atlanta, founder of the Passion Conferences for college-age Christians, did not directly renounce his remarks on gays but indicated that fighting gay rights is not one of his "priorities."
Still, because of the controversy – which erupted on Wednesday after the liberal group Think Progress posted audio of the sermon – Giglio said that "it is likely that my participation, and the prayer I would offer, will be dwarfed by those seeking to make their agenda the focal point of the inauguration."