literal
After reading my post about Randy Wolford, the snake-handling pastor, died from a venomous snakebite, fellow God's Politics blogger Tim Suttle sent me a link to his own post on the subject. Suttle's angle was different, and I found it fascinating.
Basically, he contends that the verses in Mark that Wolford and others use to justify handling snakes as an act of worship (among other bizarre practices) should not ever have made it into the Bible to begin with. His article cites what he calls a "nerdy academic journal article" from Bible scholar Robert H. Stein. In it, Stein notes a few reasons why the text in Mark chapter 16 beyond verse 8 should never have been included in the Bible.
First, there have been older copies of the manuscripts from which Mark was produced that stop at Mark 16:8. In addition, there's the historical agreement among scholars that scribes (the guys who copied the texts by hand) did have a propensity for adding to the documents they copied but seldom, if ever, deleted anything. There's also the fact that ancient scholars whose commentaries on Mark have been found do not mention these verses at all, as well as the agreement among many Biblical scholars that the tone of those verse suggests a different author wrote them.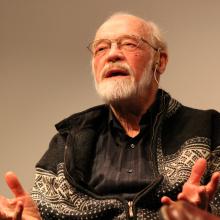 Eugene Peterson has written more than 30 books on theology and the life of faith in his 80 years, but he is perhaps best known for the one book he didn't write: The Bible.
Peterson's "para-translation" of the Bible, The Message: The Bible in Contemporary Language, was published over a span of nine years, from 1993 to 2002. And even a decade after its completion, critics still are debating the merits and missteps of his translation of Holy Writ into idiomatic, sometimes colloquial, modern English. To date there are more than 15 million copies of The Message in print.
During the two-day Q Practices gathering in New York City this week, Peterson talked about the epic translation project he says he still can't believe he actually managed to complete.
"I didn't feel it was anything special when I was doing it," Peterson said. "I can't believe I did this. Reading it now I think, 'How did I do this?' It truly was a work of the Holy Spirit."