latino voters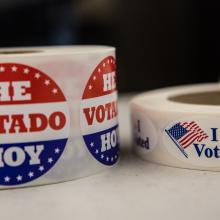 Exit polling from Tuesday's presidential election is offering new hope to activists advocating for comprehensive immigration reform. The Latino community was instrumental in reelecting President Barack Obama, as record numbers turned out to vote and supported the president by over 70 percent. These numbers send a clear message to opponents of immigration reform that demonizing immigrants and blocking progress makes for a poor political strategy.
Pundits are opining that Congress may be more willing to discuss comprehensive reform, a promise President Obama made but has been slow in fulfilling due to congressional opposition. Indeed, republican leaders in Congress have already been altering their positions.
For three straight years, there have been more than three job seekers to every available job. Nineteen statistics about the poor in America that will absolutely astound you (or should.) Poll shows most Americans see deepening wealth gap. OpEd: Juliet Eilperin of Think Progress believes climate change could be a "wedge issue" in 2012 elections. Rolling Stone magazine on "How the GOP Became the Party of the Rich." And Obama leads with Latino voters going into 2012, while GOP frontrunners face backlash on immigration.