Latino vote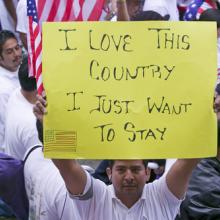 Conventional wisdom is that President Barack Obama won re-election in November in part because of shifting demographics and the rising Latino vote. The research confirms it, but also tells us another story: both parties have much to gain by courting Latino voters, and much to lose if they assume November's pattern will be repeated with no additional effort.
New polling analysis by Latino Decisions shows that for the first time in history, Latino voters can plausibly claim to have decisively influenced an election. If Latinos had supported Mitt Romney by the same margins they had supported George W. Bush in 2004, the outcome would have swung in favor of Mitt Romney.
However, this does not mean that the tide of politics has inevitably turned towards Democrats. In fact, Latino voters are the most "moveable" racial voting bloc, meaning that both parties have an opportunity to win Latino votes, provided they reach out to the community in meaningful ways.