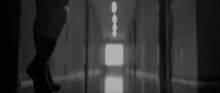 Unlike her previous music videos, known for their theatrics and intricate dance numbers, Lady Gaga's new video " Til It Happens to You" opens on a simple black and white shot of a college dorm. Like most dorms across the country, the walls are sparse cinderblock, the floors are tiled, and the desk and beds are made of heavily lacquered pinewood.
Like many dorms across the country, this set is the scene of multiple sexual assaults. More than one-in-five women are sexually assaulted or raped on college campuses each year. Lady Gaga's video was made in conjunction with the documentary film on campus rape, The Hunting Ground, and the stories her video portrays are both unique in their details and disconcertingly familiar.
There are harrowing scenes to watch, but the video does not end on the nights of the assaults. Each survivor has to deal with the trauma in her own way. They pull away from their friends. One fears the bathroom and stops showering. The two friends are unable to talk about what happened and one drops out of school.