Kim Jong-un
Unfortunately, we will not be able to watch Kim Jong-un's assassination on the big screen this Christmas. We will not be able to cheer as the brutal dictator's helicopter explodes in the air " while Katy Perry's 'Firework' plays on the soundtrack." We will not be able to fulfill this Christmas Day fantasy by watching The Interview because the terrorists have won.
The FBI now claims that Kim Jong-un's government is behind the act of terrorism. In retaliation for the movie, a state-sponsored North Korean cyber-terrorist group called "The Guardians of Peace" hacked into Sony Pictures and leaked sensitive information, including internal emails, future Sony films, and sensitive employee records. "The Guardians of Peace" also threatened movie goers with a "9/11 style attack" on every cinema that shows the movie.
After the threats were made and many theaters decided to pull the film, Sony Pictures canceled the release of The Interview. Sony said in a statement:
Sony Pictures has been the victim of an unprecedented criminal assault against our employees, our customers, and our business. Those who attacked us stole our intellectual property, private emails, and sensitive and proprietary material, and sought to destroy our spirit and morale – all apparently to thwart the release of a movie they did not like. We are deeply saddened at this brazen effort to suppress the distribution of a movie, and in the process do damage to our company, our employees, and the American public. We stand by our filmmakers and their right to free expression and are extremely disappointed by this outcome.
Washington and Hollywood are also in an uproar:
"Wow. Everyone caved. The hackers won. An utter and complete victory for them,"tweeted Rob Lowe. Jimmy Kimmel claimed that pulling the movie was, "an un-American act of cowardice that validates terrorist actions and sets a terrifying precedent." Steve Carell said it was a, "Sad day for creative expression." Sen. John McCain stated "yielding to aggressive cyber-terrorism by North Korea … sets a troubling precedent that will only empower and embolden bad actors to use cyber as an offensive weapon even more aggressively in the future."
And White House officials are exploring retaliation, saying security leaders "would be mindful of the fact that we need a proportional response."
The terrorists may have won the battle, but the United States will win the war!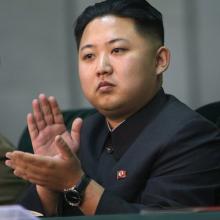 The fact that North Korea's young leader Kim Jong-un is threatening the world with nuclear holocaust does what World War I did to many theologians who had presumed that history was on a course of inevitable progress.
It is not.
The power of death is enticing, a sin to which Robert Oppenheimer, the father of the bomb, later confessed. The human will to power becomes evil when real soldiers, real nuclear bombs, real missiles, and real threats of destruction are mistaken for childhood toys or computer games where human folly can be erased by hitting a reset button.
We are all children inside, for good and for ill.