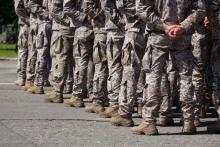 In his remarks at the National Defense University two weeks ago, President Obama stopped just one sentence short of declaring an end to the so-called "war on terror." This is and always was a misnomer. It is a category error. A "war on terror" cannot be fought with armies and weapons of warfare. Terror is a response. Terrorism is a tactic. A terrorist is a criminal who ought to be apprehended, tried, and if convicted punished through the criminal justice system.
The Obama administration has been careful about using this term, speaking more about a war against al-Qaeda than an overall war on terror that is nothing but a declaration of perpetual war. President Obama said: "Our systemic effort to dismantle terrorist organizations must continue. But this war, like all wars, must end. That's what history advises. That's what our democracy demands."
He did not go so far as to declare the war on terror over.