Joseph Gordon-Levitt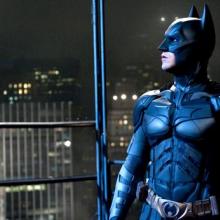 No introductions necessary here, right? We all have been looking forward to this conclusion of the Christopher Nolan-directed Batman trilogy and I am happy to report that my excitement for the summer blockbuster has been satisfied.
The Dark Knight Rises takes the viewer to the eight-year anniversary of the death of Gotham's white knight, Harvey Dent. Despite knowing the dark truth about Dent's demise, Commissioner Gordon (Gary Oldman) maintains the virtuous persona of the slain District Attorney while similarly honoring the reclusive behavior of the ailing and secretive heir, Bruce Wayne (Christian Bale).
Batman, too, has been out of the spotlight in the years following Dent's death, having taken the blame for his demise in order to cover Dent's actions, but his absence is put to the test with the emergence of a new villain — the mercenary extraordinare, Bane (Tom Hardy), who brings the havoc and rage reminiscent of Wayne's former mentor, Ra's Al Ghul.
Batman is forced to re-evaluate his former relationships with Gordon, Lucius Fox (Morgan Freeman), and his loyal butler, Alfred (Michael Caine). He also must learn whether to trust new people on the scene or not, including the successful (and fetching) thief Selina Kyle (Anne Hathaway), board member Miranda Tate (Marion Cotillard), and Gotham Police Officer John Blake (Joseph Gordon-Levitt). The rest you'll have to see for yourself.