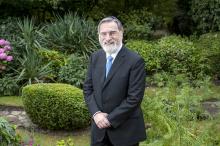 Religious zealots fill newspapers and screens with bloody images of bombings and beheadings. They kidnap children and make them into soldiers. They pray before they rape women.
But "not in God's name," says Rabbi Lord Jonathan Sacks, the former chief rabbi of Great Britain, who just published a book by that title.
"The greatest threat to freedom in the post-modern world is radical, politicized religion," Sacks writes. Religion News Service asked Sacks how people can kill in the name of God, and how religion can counter religious extremists.