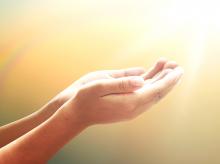 Every age must be baptized, this one as much as any before it.
The world made by men is passing away; successive scientific paradigms and technological achievements fall into times past along with the times that gave them birth. Ideas are tried and fought over, and even the best are eventually found wanting and impartial. Mansions, buildings and cities are erected and torn down or — in some places, slowly — worn down, and all the people that lived and moved and had their being in them are gone.

Yet the gospel is ever-new for Christ is not dead but alive. Despite appearances, resurrection and new creation are the end toward which all things are headed. Chaos, destruction and death are judged and in the time after the cross fight on with one hand bound, their ultimate defeat assured. The grave is now never the end.

And so there is no such thing as a "post-Christian" culture, only a new moment — right now — in which the mind of Christ, like leaven in bread, humbly seeks residence that it might by self-giving love transfigure and transform the present as it has the past and as it will the future.

Christ has died. Christ is risen. Christ will come again.