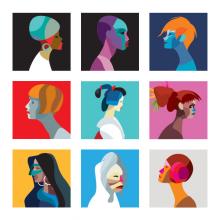 Editor's Note: This post is an excerpt from the report "Peering Under Our Collective Burqa: How Do Our Own Religious 'Personal Status' Codes Cover and Diminish the Full Humanity of Women?" Read the full piece HERE.
March 8 came and went, the 39th observation of International Women's Day, a day set aside to collectively take stock of how the world's women are doing. The theme for this year — Equality for women is progress for all — captures the spirit of this day to invite and remind us all that the better world we want to create for girls and women is indeed a better world for us all. This blog asks people of faith to hold a mirror up to ourselves to ask if we are in fact part of this "us."
By nature an optimist, I do enjoy this day set aside to celebrate women's accomplishments. Everywhere, women are bravely rising up above patriarchal customs and cruel forms of highly prevalent violence to "lean in" to their own economic and social and spiritual empowerment. There is indeed incredible momentum afoot in our world in so many sectors of society to really mainstream women's equality/gender balance not just as a "women's issue" per se but rather as a shared human concern, i.e., what is good for girls/women is also good for global development, good for society, good for relationships, good for families, good for healthy teams, good for organizational dynamics and even good for the "bottom line" of business.
Yet every year for the past few years as International Women's Day rolls around, I feel a strange mix of both hope and despair as I hold the gender contradictions of our world close to my heart. Don't be such a pessimist, I tell myself; be positive! Yet I cannot shake a refrain I have heard again and again from women's human rights activists working around the world: "Here in our country, we have a decent legal code for women; however, in recent years we have experienced a backlash that is threatening to undo many of the strides that women have made." However you fall on the optimist/pessimist scale, it is safe to say that women's place in the world is still highly tenuous.