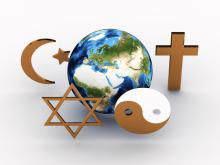 I agree with Rev. Wallis — focusing on the common good is a good step toward answering the question of how to be on God's side, and solving many of our nation's greatest points of division. In a country as diverse as ours, however, it can be challenging to know what the common good actually is. As individual participants in society, we all come to the table with different ideological structures for framing our understanding of what is commonly good. Those structures are often built around religion, philosophy, and our beliefs and understandings about existence, mortality, and the cosmos. The situation is exacerbated by the fact that we live in, arguably, the most religiously diverse nation of all time.
Yes, Jesus has called me to love my neighbor as myself, but what does that really mean when my neighbor is Mormon, Muslim, Jewish, Atheist, secular humanist, or Hindu?
Religion is often blamed for the world's greatest conflicts, and rightfully so. One doesn't have to look far to see conflict or violence that is linked to religious motivations or sentiments in some way (think the tragedy at the Boston Marathon or the Sikh man that was murdered shortly after 9/11 because he was wearing a turban). In a country that becomes more religiously diverse every day, it is easy to allow conflict to arise between different religious and non-religious groups. It is true, difference in religious and philosophical ideology can be a cause of great division. But what if I told you it doesn't have to be that way?