independent film
1. How Yemen Became the Middle East's Latest Regional Nightmare
As Saudi Arabia and Egypt say they're prepared to send in ground troops, here's a look at how Yemen got to this point.
2. God and Jeb

"[Jeb] Bush wants Christian conservatives to pay attention to what he's done, not just to what he says. But in a Republican presidential primary, can actions — much less actions more than a decade in the past — actually speak louder than words? Can quiet faith, and quiet support from some religious leaders, carry the day against a field full of outspoken Christian warriors?"
3. A Response to Critics of the Open Letter to Franklin Graham
"Jesus says 'If another member of the church sins against you, go and point out the fault when the two of you are alone.' Jesus does not say, 'If another member of the church sins against millions, and hundreds of thousands begin to follow his lead on the issue, go and point out the fault when the two of you are alone.'"
4. Women & Leadership: Public Says Women Are Equally Qualified, but Barriers Exist
And it might not be the barriers you would think. "Only about one-in-five say women's family responsibilities are a major reason there aren't more females in top leadership positions in business and politics. Instead, topping the list of reasons, about four-in-ten Americans point to a double standard for women seeking to climb to the highest levels of either politics or business, where they have to do more than their male counterparts to prove themselves. Similar shares say the electorate and corporate America are just not ready to put more women in top leadership positions."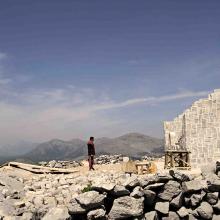 PARK CITY, Utah — It's been said that Hollywood films comfort the afflicted while Sundance films afflict the comfortable. Film offers a vicarious entry to the world the way it is, and the films I saw at the 2013 Sundance Film Festival left me longing for a different world — the world the way it ought to be.
It ought to be a world in which Muslims and Christians love, serve, protect, and forgive each other. Circles is based on a 1993 incident that took place in Trebinje, a small town in the Serbian region of east Herzegovina. Three Serb soldiers were brutally beating Alen Glavovic, a Muslim shopkeeper. When Srdjan Aleksic, a Christian Serb intervened to stop the soldiers, they turned their attention on him and beat him to death. The film explores the impact of this incident on the Muslim who survived the beating, Srdjan's fiance and his father, on the children of the perpetrators, and on the whole village.