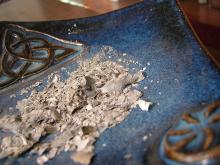 This coming Wednesday, Febr. 22, is Ash Wednesday. The following new hymn is based on the Revised Common Lectionary's assigned reading of Isaiah 58:1-12 with its social justice themes.
            O God of Love, the Fast You Choose
  KINGSFOLD CMD ("Today We All Are Called to Be Disciples")
O God of love, the fast you choose is not some great display.
It's everything we gladly do to serve you day by day.
It's not a moment set apart when we will mourn our sin;
For you require a change of heart—  a change from what has been....