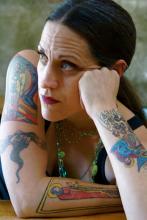 Here's the story I tell about how I met my husband, Matthew. 
I had left the conservative, sectarian church of my childhood along with their teaching that being Christian mostly meant buying an insurance policy for the hereafter. We were told not to concern ourselves with this world. We need not bother ourselves with the poor, the hungry, the stranger unless of course in doing so we might sell them the eternal insurance policy thus adding a notch to our holiness belt. See, as our hymns suggested, we were the spiritual 1 percent we were all about gold streets and mansions in heaven so the deteriorating sub-standard housing around the corner was not our concern.
Almost 10 years after leaving that form of Christianity and after involving myself quite deeply into issues of social justice I met Matthew, a really cute Lutheran seminary student. On our first date we sat across the booth from each other at el taco de Mexico and talked about social issues and we saw eye to eye on everything. Then he said, "my heart for the poor is rooted in my Christian faith" at which point I looked at him and thought: What are you? Like a unicorn? Some mythical combination of creatures that doesn't exist in reality? Soon I learned there was a whole world of Christians out there who actually take Matthew 25 seriously. Who believe that when we feed the hungry, cloth the naked, and care for the sick we do so to Jesus' own self.