Hoodie Sunday
When I left the Sojourners office Monday evening in the formerly blighted, now Disney-fied, Columbia Heights neighborhood of Washington, D.C., I walked a half-block and joined a multiethnic, multigenerational crowd that had gathered in front of the luxury Park Triangle apartments. In the middle of an open square shared by the entire Columbia Heights community, nearly 100 people stood in a circle braving the decidedly un-springlike arctic chill.
We listened intently as an ordinary D.C. resident stood in the middle of the circle with a bullhorn and shared from the heart. "Forgive us," the unnamed gentleman pleaded. "George Zimmerman was Latino. The horrible atrocity that has rocked our nation was committed by a Latino man. I am Latino. I ask for your forgiveness on behalf of my community."
Then he went on to explain how there have been long-standing tensions between African-Americans and Latinos and that we must begin to deal with them.
"Forgive us," he pleaded again.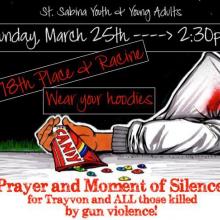 Christians and other people of good faith nationwide stood in solidarity with Trayvon Martin this weekend by wearing hooded sweartshirts — aka "hoodies"— to church.
Monday marks the one-month anniversary of Trayvon's slaying in Sanford, Florida at the hands of neighborhood "watchman" Gregory Zimmerman, who shot and killed the 17-year-old African-American boy in "self defense" for "looking suspicious" while dressed in a hooded sweatshirt.
Trayvon was unarmed, carrying only a package of Skittles, an iced tea and his cell phone.
Last week, people across the nation began wearing hoodies to work, school, and community marches in response to Trayvon's slaying and the injustice of the kind of racial profiling that it would appear directly led to it. On Sunday, many churches took that vision a step further as pastors and congregants donned hoodies and wore them to church for what some congregations called "Hoodie Sunday."