home loan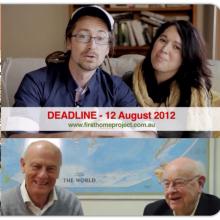 In the Australian city where I live, there is a housing crisis.
Only 2 percent of rental properties are vacant. The mining boom has seen a huge increase in the number of renters and this additional competition has left parties outbidding each other to lease the few rental properties on the market.
In this environment, immigrants, generally, and refugees in particular, struggle to access affordable accommodation, let alone accommodation close to employment opportunities or community services.
In the community I helped found and where I have spent the last eight years — going through the highs and lows of radical hospitality, direct action, gardening, praying, and cups of tea — we feel called to leave.
Ken and Meredith Williams have been waiting 79 days for the Bank of America in Georgia to close on their home loan.
The bank has delayed the closing three times. And the Williams, who live outside Atlanta and want to buy a modest home in the city nearer to their work offices, have grown frustrated with the hold-up and ... clever couple that they are ... their ire turned to humor.
They started a blog chronicling their misadventures with the banking behemoth, created a Twitter account to bombard the bank with message through it's @BoA_Help account, and then made a music video — Ken plays the guitar and sings while Meredith, in one scene, dances in the background in the parking lot of the Bank of America branch in Lawrenceville, Ga.
It's hilarious and, they hope, effective.
See the video and read the Williams' tale of woe inside...