high school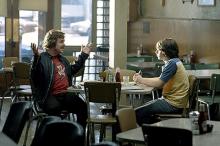 A lot of problems stem from people lacking the courage to follow their moral core.
In another sign of the emergence of nonbelievers in American society, the Secular Student Alliance, a national organization of more than 300 college-based clubs for atheists, humanists, agnostics and other "freethinkers," is helping to establish clubs for high school students to hang out with other teens who share their skepticism about the supernatural.
"I am hoping that atheist students having their clubs and religious students having their clubs will promote dialogue," said JT Eberhard, director of SSA's high school program. "I also hope it will let the atheist students know that you can be an atheist and its okay. You are still a good person. We want to say: Here is a place where you can feel that."
There were about a dozen such clubs at the beginning of the 2011-2012 academic school year, a figure that rose to 39 in 17 states by summer break. The clubs are student-led, with SSA providing information and guidance only upon a student's request.
Some clubs are in states with high levels of "nones" -- people who claim no religious affiliation -- such as New York, Washington and California. But some are in the buckle of the Bible Belt: North Carolina, Alabama, Louisiana and Texas all have at least one high school with a club for atheists.
And more are forming. Students at 73 different high schools have requested "starter kits" since January of this year, according to SSA.

With her teenage son reading The Great Gatsby for school, poet Sarah Vanderveen revisits Fitzgerald's masterpiece, this time as an audio experience.