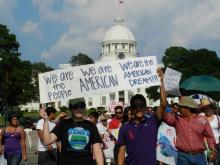 We lost a bitter legislative battle this year, as Alabama Legislators voted to make the nation's most toxic anti-immigrant law more poisonous than anyone imagined. Added to the notorious HB 56 is a requirement that the names and faces of undocumented persons be plastered on the web and in prominent public places — the new law stops just short of putting targets on their backs. 
Teachers are still required to interrogate schoolchildren about their immigration status. People of faith, Good Samaritans, and family members are now felons if they knowingly drive five undocumented children to the store, the doctor, or Vacation Bible School. Racial profiling provisions make every trip to school, work, and church a nightmare.

The legislators — all Republicans — must have laughed all the way to golf games waiting for them back in their districts. They think they won.