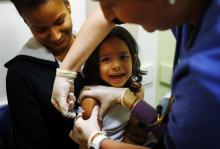 Gov. Chris Christie created a stir during a trade trip to London this week when he defended parents' right to decide whether their children should get mandated vaccines — remarks that a spokesman quickly clarified by saying the governor "believes vaccines are an important public health protection."
Back home in New Jersey, where Christie's health commissioner has been a vocal advocate for vaccinations, parents already have the right to make those decisions if they put in writing that accepting vaccines violates their religious beliefs.  
In the 2013-14 school year, nearly 9,000 New Jersey children used a religious exemption to decline immunizations that under state law children must receive in order to attend school. The largest number of exemptions were sought in Hunterdon, Monmouth, Warren, and Sussex counties, according to state education department data.  
A parent need only submit a signed statement indicating "immunization interferes with the free exercise of the pupil's religious rights," according to the health department website.
Parents do not need to produce a letter from a clergy member or cite religious doctrine.