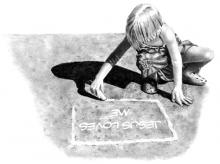 A couple of years ago, I remember speaking to a middle-schooler about his worries of the world. During our conversation, he told me one of his biggest fears centered around Muslims. When I asked why Muslims generated so much fear in him, he said they were scary and are out to hurt people.
"Look at 9/11," he said. "Terrorists may take over the U.S. and then the world."
Around the same time I heard similar concerns from a 10-year old in my Sunday School class who joked about the terrors of Islam and how Muslims were going to take over the world. Again, I asked him where he received these ideas, to which he responded, "from my church back in Southern California." 
Both times, I had to remind my students that sometimes churches get it wrong. All people are created in the image of God. Every person is a child of God. God's love brings understanding, reconciliation, and peace among one another. God's love casts out all fear.