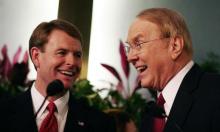 Does Rick Santorum's Southern surge also herald the return of the Religious Right?
Last January, the titans of Christian conservatism were widely dismissed as irrelevant, at best, after 150 of them gathered for an evangelical "conclave" at a Texas ranch and anointed Rick Santorum as their champion -- only to see him finish third in rock-ribbed South Carolina a week later, well behind Newt Gingrich and even their least-loved candidate, Mitt Romney.
Now, however, with Santorum on an roll after big primary wins on Tuesday (March 13) in Alabama and Mississippi, those born-again bigwigs and their allies may be having the last laugh.
"People have been writing the obituary of the pro-family, evangelical movement for 25 years -- and they're always wrong," said Ralph Reed, head of the Faith and Freedom Coalition and the architect of the Christian Coalition in the 1980s.