GOP primary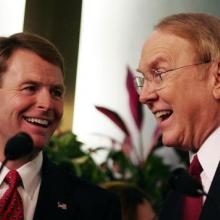 Does Rick Santorum's Southern surge also herald the return of the Religious Right?
Last January, the titans of Christian conservatism were widely dismissed as irrelevant, at best, after 150 of them gathered for an evangelical "conclave" at a Texas ranch and anointed Rick Santorum as their champion -- only to see him finish third in rock-ribbed South Carolina a week later, well behind Newt Gingrich and even their least-loved candidate, Mitt Romney.
Now, however, with Santorum on an roll after big primary wins on Tuesday (March 13) in Alabama and Mississippi, those born-again bigwigs and their allies may be having the last laugh.
"People have been writing the obituary of the pro-family, evangelical movement for 25 years -- and they're always wrong," said Ralph Reed, head of the Faith and Freedom Coalition and the architect of the Christian Coalition in the 1980s.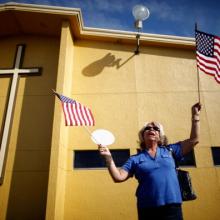 In Tuesday's Mississippi and Alabama primaries, about eight of 10 voters identified as evangelical, locking in victories for former Sen. Rick Santorum, and proving once again the importance of the evangelicals in the election.
Presidential hopefuls are again battling it out to be the God candidate, but the tide of the so-called "evangelical vote" seems ever-shifting. Santorum—a Catholic—is doing better to court most evangelicals, while former Massachusetts governor Mitt Romney — a Mormon — is beating out Santorum among Catholics. And according to a recent poll, Republicans in the Deep South are still questioning whether President Barack Obama is a Muslim.
Religion matters.
But what does the "evangelical vote" even mean anymore? And can any one candidate really claim it? Even with Santorum's win Tuesday, a significant number still fell into Romney's column — and that's just among Republican evangelicals. Obama was able to draw some evangelical support in 2008 and could garner more in November.