global village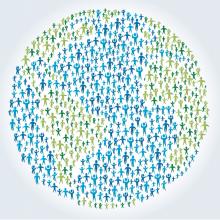 We are connected with people and places through ways and means unlike any previous generation. We live in a "global village."
We are connected through worldwide round-the-clock television networks, rapid international travel, mobile phones, Skype, and wonders of the Internet. But while such connections are indeed profound, the bonds of our global village run far deeper, for we are also linked through global events and international endeavors. Whether it is sporting events like the Olympics, a royal wedding, or various natural disasters that capture worldwide attention and compassion, the reach and depth of our global village passes through time zones and crosses national boundaries.
While these characteristics of the global village are astounding, our connections run even deeper as a result of the global process of production, distribution, consumption, and waste. In other words, the architects of our global economy intentionally linked local communities with others that are thousands of miles away. And so, while these massive multinational connections are often unnoticed in daily North American life, once we take a deeper look, we recognize that they are not only evident, but are also far from impartial.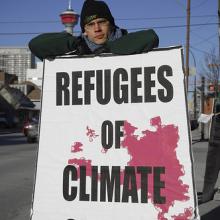 Climate change affects the poorest the hardest. Most things do. In the parts of the world where climate change is most prevalent, it is those who have done the least to cause it that are bearing the brunt of its effects.
It is the Malawian farmer whose crops have failed because the seasonal rains didn't start at the usual time. It's a Bangladeshi who can see the sea-levels rising around her town year after year, and has nowhere to go. It's even an American family whose food bill grows ever larger because of the stresses that a changing climate is having on food security worldwide.
These are neither the people nor the organizations that have spent decades turning a blind eye to their responsibility as good stewards of our environment. They are not the people who, in the face of more and more extreme weather patterns, turn an issue of human survival into an ideological war.
It is for them that we must adapt.