giles fraser
LONDON — It looks like the stage of a West End theater. The tents are gathered around and almost up against the steps of the historic St. Paul's Cathedral. Each night, a General Assembly is held on those steps, and the sermons on inequality have a biblical ring to them.
This is Occupy London and the Occupiers were having their discussions with each other and visitors in the protective shadow of the Dome of St. Paul's — as they should be. What a picture of the Incarnation, I thought, marveling at the scene.
What makes Christian faith most unique among all the religions of the world is, indeed, the incarnation. In Jesus Christ, God hits the streets — that's what Incarnation means.
So here is the church in the midst of the international conversation that is changing the world — right where we should be.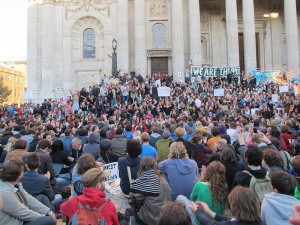 On Sunday (10/30), the Anglican Bishop of London, the Rt. Rev. Dr. Richard Chartres, met with Occupy London protesters who have encamped for several weeks now on the ground of St. Paul's Cathedral in London, in an ongoing attempt to get the demonstrators to leave church grounds.
Chartres wants the Occupiers to vacate cathedral property and stopped short, in an interview with the BBC yesterday, of saying he would oppose their forcible removal. Other British clergy, however, are rallying behind the demonstrators, saying they would physically (and spiritually) surround protesters at St. Paul's with a circle of prayer or "circle of protection."