George O. Wood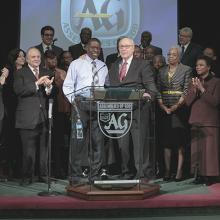 When he was a boy, the Rev. Thomas Barclay noticed a difference between the worshippers of his small Pentecostal denomination and churches he visited of the larger Assemblies of God.
"Why are they all white and we're all black?" he asked his father.
After a racial divide that lasted for nearly a century, the two denominations, the Assemblies of God and the United Pentecostal Council of the Assemblies of God, have agreed to a new partnership.
The Assemblies of God, a denomination rooted in rural and small town America, appears to have leaped into the 21st century with dramatic results.
At its General Council meeting last week, the denomination touted its formula for defying the seemingly irreversible decline of other religious groups: contemporary music, arts and high-tech quality communication, outreach to young people, immigrants and ethnic minorities.
The denomination reported a 1.8 percent increase in U.S. membership to 3 million adherents. Globally, the gain was 1.5 percent, to 66 million, making it the largest Pentecostal group in the world.
Why are the Assemblies of God defying the odds?