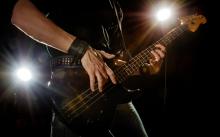 I grew up with music in my life. At first, it was a combination of my dad's Willie Nelson and Ray Charles with my mom's old southern Gospel hymns. I'd sit under the piano, feeling the vibrations as she played "Blessed Assurance," and then lie on the floor in front of the speakers as Ike and Tina belted out "Proud Mary."
And then I discovered my own music, in the form of rock. Eventually, I sang lead in several hard rock bands around Dallas hitting all the local hot spots and singing until I was hoarse and exhausted. It was during my decade away from church that I did most of this, but I didn't realize until recently that, despite the pretense of countercultural rebellion the music offered, it actually gave me some of the same things I experienced as part of organized religion.
Of course, only the most uneducated would think of rock music as some monolithic think that was barely held together by the pursuit of sex, drugs, and fame. There were rules. There were codes. And my lord, there were categories.
Any time you asked a band what style they were, inevitably they'd sigh and equivocate, finally listing off a handful of bands they most certainly were not like. No one wanted to be categorized, and yet we were more than ready to label all others and fit them in to their neat little musical denominations.