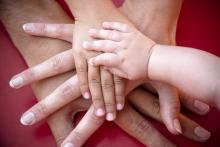 What do you want to pass on to your grandchildren? What will you give to future generations?
There's a special spot on my shelf for books my grandparents handed down to me over the years. I cherish the collection of love poetry my grandfather gave my grandmother for a wedding anniversary decades ago. I treasure my grandfather's old prayer book and hymnal. Depending on your family history, most of us will have at least a few old treasures from generations before.
Some things pass from one generation to another with special care—a family wedding ring, a chess set from the home country, old pictures. Other items, however, pass with less care and planning. My wife, for instance, has her grandmother's old cookie jar. It's made of cheap, simple glass and is completely unremarkable except for the memories of cookies eaten at grandma's house it evokes.
Families aren't the only ones thinking of passing things along. Politicians, skilled at tugging heartstrings, speak often of "future generations."